Lake Property -- Upper Michigan Peninsula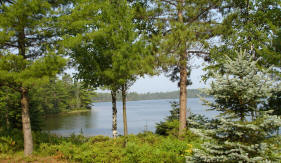 Clear Lake: an aptly named 82-acre spring-fed lake so pure it's drinkable. The shore is bordered by beautiful forest land containing just enough paths and old roads to provide easy enjoyment of its inner beauty. Large forested sand dunes range throughout the property, some of them "critical dunes", those from which Lake Michigan, only a mile or two away as the crow flies, receded centuries ago. In fact, one may hike, bike or take an ATV (or snowmobile in winter) all the way to Lake Michigan. Wildlife ranges from beaver, porcupine and bobcat to deer and even bear (moose and cougar are also rumored to have been seen). Hummingbirds and Bald Eagles share the sky and can be seen on a daily basis.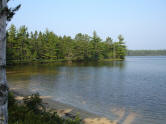 The lake is home to walleyes (plentiful!), bass, perch and the occasional big northern pike. No other streams flow in or out of Clear Lake, a fact that ensures landowners' privacy: there is no public right of access. Further, all the land surrounding the lake is privately held. The lake is ringed with a "kid-friendly" shallow sandy bottom that extends some 30-50 feet from shore. A family can walk the entire shoreline in knee-deep crystal-clear water. Depth away from shore is mostly around 20 feet with 25 feet being maximum.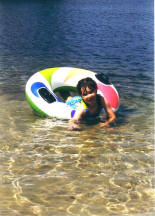 Winter provides even more opportunity for sport: Snowmobiling on the trails and roads, cross-country skiing, snow-shoeing and ice skating are all popular. And, of course, the beauty of the area when covered in snow can only be told in pictures (more available on request).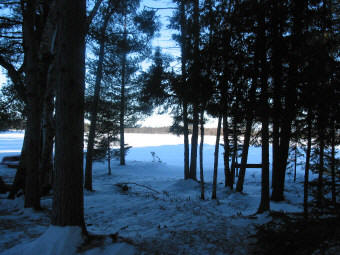 The land comprises approximately 75 acres bordering essentially the southern and western shoreline of Clear Lake. Lake frontage approximates 2200 feet. There are also several fantastic lakefront building sites along those shores The parcel is $784,000 or can be broken into two pieces. One piece would be approximately 1400 feet of shore line and approximately 15 acres, with the best building site on the lake, offered at $490,000. The adjoining parcel is approximately 800 feet of shore line and approximately 60 acres offered at $294,000. For more information and pictures contact Ray Giles, 214-361-6577 or email raygiles@sbcglobal.net.
he
beautiful and "haunted" (look it up on Google!) Seul Choix Point Light House, a Michigan Historic Site and Landmark, is on Lake Michigan at the southern tip of the peninsula on which Clear Lake is located, just a few miles further down the road. Gulliver, 2 miles north, may not be much of a town but it does have groceries, gas and its own ZIP code (49840) as well as two very nice, and much larger, lakes with public access) and no restrictions as to motors): McDonald Lake, to which we have deeded access across the road, and Gulliver Lake, less than a mile away. Manistique is 13 miles away and is a "real town", close enough to be convenient, far enough to still make you feel you're out in the country. On the other hand, for those of you with private planes the Schoolcraft County Airport (
www.fltplan.com/AirportInformation/ISQ.htm
) with its 5000' and 2500' lighted runways lies conveniently between Manistique and Gulliver.