32-20 WHV

Western. Super-X box, Olin (post-war). This is the scarce 80 grain JHP loading with the "WHV" headstamp and the warning: "Do Not Use in Pistols, Revolvers or M73 Winchester Rifles". Clean, solid box, clean rds; getting very hard to find!
$90
35 S&W
Remington-UMC.
Two-pc box, ca 1916-20, in "Metal Point Bullet" (jacketed lead-bearing b't) loading. Ctdgs are surprisingly clean and have nickel primers with impressed "u". Side-seal lbl is approx 90%. [Focus on pic (scan) is weak because the label is recessed in the lid on these boxes.]
$120
357 Magnum

Peters. Earliest Peters box in this caliber, ca mid-1930s w/ Kings Mills address. Shows some shelf wear, but tight flaps & seams and all original nickel-plated rds.
$200
357 Magnum

U.S. Cartridge Co. Unquestionably the RAREST 357 box, 1935-6: At this time (NY address box), USCCo had been operating out of the Winchester factory since 1926 as the brand was being phased out over a 10-yr period ending in 1936. Have seen 4 of these in 25 years. Full cover 2-pc box contains 46 cartridges, obviously individual collectors' items in themselves. [ From my personal collection]
$500
sold
38 A.C.P.
(38 Auto)

Remington-UMC. 2-pc box ca 1915. Side label has Colt recommendation and shows the famous "Rampant Colt" logo. Sealed, looks like it just came out of the original case!
(Photo'd in shrink-wrap)
$125
sold
38 Colt Special

Winchester. "1932" series. Other than a scuff on one edge, the box is in exc condition with tight flaps & seams & great color. Colt Special differs from the S&W Spl only in that the Colt loading has a flat bullet as opposed to the S&W round-nose b't. Since the commonly available .38 S&W Spl ctdgs worked very nicely in the Colts, the "Colt Special" loading & nomenclature was soon dropped. Scarce, interesting box, the last Win listed in this caliber.
$135
38 S&W Special
"Hi-Speed"

Remington. This special "Hi-Speed" loading, as stated on box bottom, is "...for use ONLY in S&W .38/44 Outdoorsman, Colt Shooting Master and such Colt New Service Arms as are designed for Hi-Speed Ammunition". Headstamp is the unique "Rem-UMC .38 Spl H.S.". Ca 1930s, this loading, perfect for display with the above mentioned revolvers, is very seldom encountered. All original in & out, no flap or seam problems & good color.
$125
sold
38 Spl Super Police

Western. This is the much sought-after early Super Police box, ca 1930s, w/ the 200 gr bullet. (Like the one pictured in S&W books.) Tight flaps and seams--unusual in this heavy box.
[The top edge appears dark in this scan--it's not! Also the color is better/brighter in hand]
$150
38 Spl Super Police

Western. Super Police, very scarce 200 gr b't. Clean box & ctdgs, ca mid-1960s. Getting very hard to find.

[Photo'd in shrink-wrap]
$100
sold
"38 Super Special"

Winchester. For a brief period in the mid-1930s, Winchester produced this box with graphics that are unique to the entire line of the Co's offerings. The headstamp is likewise unique: "WRA Super 38 Spl". Completing the trifecta, the bullet is "Metal Point Lead Bearing"--looks like FMJ but it's just a metal cap over the lead bullet, the lead being what engages the rifling, not the jacket. Very colorful, rare and desirable box for anyone who collects either Winchester generally or .38 Special specifically!
sold
38 S&W Special +P
Metal-Piercing


Win-Western. These are the very scarce 150gr "Metal Piercing", pointed b't rds and are significantly rarer than .357 MP. These are NOT "Armor Piercing" military rds but I'm told are still banned by some states (prob CA and a few others--pls check your state's laws!). [End flap photo'd in shrink-wrap]
$95
sold

38 L Colt
Lightning Pic Box
Winchester. As 2/3 of the total production of these revolvers were produced in the Black Powder era, the most desirable of the Colt Lightning picture boxes is this Blk Pwdr 2-pc box by Winchester. Though there is some fading on the back side-label, this box is still SEALED! [Pls ignore shrink-wrap seams and glare on side-label.] Sealed Blk Pwr boxes are becoming nearly impossible to find in ANY center-fire caliber!
sold
38 Short Colt
UMC "red ball" logo Smkls box. Seldom-seen caliber in short-lived labeling (1908-11). Solid w/ good color. For light load use in Colt Lightning revolvers and other guns calling for "38 Colt" or ("38 Long Colt" or "38 Colt L")
$75
38-40
(38 WCF)
Winchester. "Smokeless, Metal Patched Bullets", 2-pc box, ca 1910. This is the very scarce & desirable Full Metal Jacket loading. Further, as pointed out in Giles & Shuey (pg 63), this is the only offering in this caliber that calls for use in "Colt Revolvers"; no other loading in either Blk Pwdr or Smkls Pwdr has such a call-out.
No splits, no problems anywhere, and it's SEALED. [Photo'd in shrink-wrap, pls ignore seams on side]
sold
38-40
(38 WCF)

Winchester. The RARE "Lesmok" labeling intro'd in 1910-11 (Giles & Shuey, pg 61). Offered in very few Center Fire calibers and only for a short period of time, it was predominantly a small caliber Rimfire powder loading. SEALED box w/ no splits or other problems.
[Photo'd in shrink-wrap, pls ignore seams on side]
sold
38-40 Marlin
Winchester. This is the seldom-seen "Marlin Safety" box containing cartridges specified by Marlin to contain broad, flat tipped bullets and small primers, which together were supposed to reduce the chance of rounds going off in the magazine. I have no doubt that it worked. On the other hand, I'm not aware that Winchester had a history of this happening in any of their tubular magazines so it may have been a solution looking for a problem...but I'm sure Marlin's Marketing Dept was pleased. RARE box and SEALED!
sold
.44Colt/Rem,
.44 S&W, .45 Colt & Schofield, .50 Rem Pistol
ALSO SEE "EARLY & TRANSITIONAL" and "BARGAIN BIN" PAGES for any Frankford Arsenal offerings.
44 Colt & Remington

Frankford Arsenal, "Martin [primed] Cartridges, For Colt's and Remington's Revolvers". Very early (1st year) SEALED 12-pack, dtd June, 1871. Pull string intact w/ none of the common edge splits. NOT a glued-edge, repaired packet as are so many of these. Martin primed ctdgs are widely sought by collectors as being the earliest successful center-fire priming system adopted by the U.S. military.
sold
44 Game Getter "Ball"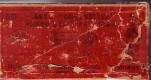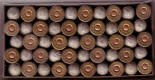 ROBIN HOOD. Game Getter box in "Ball" loading. Unfortunately this RARE box has had some serious damage and has been repaired with transparent tape. Still The great Robin Hood logo is quite visible (see close-up pic) and the ctdgs are nice (HS: "R.H.A.Co. .44 G.G.") & all appear native to the box. Most Robin Hood Game Getters are found in blue label Blk Pwdr boxes; this red Smokeless label is the first I've seen. If you're not familiar with Game Getter box prices, most any decent full box--by ANY maker--will bring $450-550. Robin Hood bxs bring FAR more (in ANY caliber, .22s often bring well over $2000). Admittedly, a box with "problems", but chances of finding another are slim. Chances of another FULL one of ANY loading at under $500: prob near zero!
sold
44 Magnum
Western Super-X. Early 50-rd box, ca 1962-68, showing minor shelf wear but w/ good color and tight flaps & seams.
$47.50
44 Russian
"Buck Shot"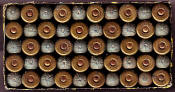 Phoenix Metallic Cartridge Co. For the advanced S&W collector, cartridge box collector or investor, this box is titled, "3 Buck Shot, 44 Cal. / For RUSSIAN MODEL PISTOL / Patented May 17th, 1870". This is a truly unusual loading & one I've not seen in any other caliber or by any other maker. Cartridges appear to be all native to the box and are unusually nice. A nearly identical box (slightly less scuffed but only partially full) went for nearly $4500 in Amoskeag's sale last summer (Aug?). Offered at a fraction of that price, this ought to be in the "Bargain Bin"!!
sold
44 Russian
Picture Box


UMC. Early "Dog Logo" box, ca 1870s, picturing the Smith & Wesson revolver. Considered to be far and away the BEST display box for this iconic caliber, the greatness of which is attested to by the fact that it was chambered in American revolvers for nearly 50 years, in spite of the fact that it didn't have "Colt" or "Winchester" in its name. Further, this box is still FACTORY SEALED! Have sold 2 others, un-sealed, in the past 25 years for between $4000-5000. A great find for the serious collector (or investor)!
[This one from my personal collection.]

sold
44 S&W
National Armory. "For Smith & Wesson's Army Revolver". Very scarce early SEALED box of "Martin-primed" cartridges. The National Armory, founded in Spfld MA in 1777, was George Washington's concept designed to safeguard our young nation's armament from the British. The last dated ammo I have seen from Nat'l Armory is 1871, the year of this box. Thereafter everything is from Frankford Arsenal. Virtually perfect: no tears or splits, pull string intact. This is a real piece of our country's history! [This packet is virtually identical to the one sold earlier this year @$975 off this very page. You may recognize that I have not changed the description from that listing: it is reprinted here exactly as it appeared then].
sold

44 S&W Special
Winchester. Colorful "1946" box. Unusually clean with no flap or seam problems (unusual for these heavy calibers). Not often seen box!
$95
.44Colt/Rem,
.44 S&W, .45 Colt & Schofield, .50 Rem Pistol
ALSO SEE "EARLY & TRANSITIONAL" and "BARGAIN BIN" PAGES for Frankford Arsenal offerings.
44-40
Winchester. Thought to be the very FIRST Smokeless box (ca 1896-97) in this iconic caliber by Winchester (See Giles & Shuey, pg 71), this is also one of the rarest & sought after of all Winchester boxes and is seldom found in displays or collections. Seams & corners are all tight and without repairs. FAR scarcer than the Win M73 "picture box" so often seen and at not much of a premium over that box. Nothing more need be said!
$1450
sold
44-40

John Wayne Commemorative
Issue




Winchester 44-40. "100 years of John Wayne" commemorative issue, celebrating the 100th anniversary of Duke's birth, 1907-2007. Extraordinary packaging and graphics with silver embossed "seal" w/ pic in center. Makes the older commemoratives look positively shabby by comparison. Cartridges are nickel-plated and have the "DUKE" headstamp. The inner tray is imprinted with the Winchester logo in red and even the bottom has a silver embossed picture. These are classiest boxes ever produced by Winchester (or any other cartridge company for that matter)! ONLY 16,000 OF THESE BOXES WERE MADE IN 44-40, FAR FEWER THAN IN 45 COLT (28,000) AND ONLY A FRACTION OF THE 65,000 MADE IN 30-30! THIS IS AN INCREDIBLY SMALL ISSUE FOR A CARTRIDGE BOX!!

$95
45 ACP Riot Ctdgs (Shot) for TSMG
Peters. Riot (Shot) Cartridges "FOR THOMPSON SUB-MACHINE GUN" and widely considered to be the most interesting (& probably earliest) display box for the historically colorful Tommy Gun. Contents are red, paper-saboted shot cartridges, all of which appear native to the box. There no fewer than 6(!) paste-on labels: the Caution label and 1925 patent label on lid top and the "Rustless" and product code ("No.4525") labels on both ends. Of the many sub-varieties of this great box, this is arguably the best!
$695
sold
45 Colt

Frankford Arsenal, June, 1874. These early Benet-primed "Colt's Revolver, Cal; .45" (pre-Schofield) packets were month-dated from Oct 1873-Aug 1874 only. Thereafter, the .45 "Revolver Ball" cartridges, which were shorter and less powerful to accommodate use in the S&W Schofield as well as the Colt, were year-dated till 1882. Great early box, CLEAN & SEALED!
sold
45 Colt & Schofield
Frankford Arsenal, 1878, Schofield & Colt. The most common date of these great "US Cavalry" packets. SEALED!
$350

45 Colt
Winchester. Black powder "Colt Model 1878 D.A." picture box. Complete side label w/ Colt logo (pls ignore shrink-wrap seam). As ALL non-military .45 Colt black powder boxes are nearly impossible to find, this makes a great display box even for single-action collectors.
sold

45 Colt
Winchester. As above: Black powder "Colt Model 1878 D.A." picture box. Complete side label w/ Colt logo. This box is ca 1883-1885 while the above is ca 1907-08. The contents, however, in addition to 41 original ctdgs w/ plain primers, include 9 rds that have "w" primers though the headstamps are all identical "45 Colt WRACo". Further, the label has been skillfully "artistically enhanced" (meaning "touched up"). So, while the above, much later (1907-8), box sold for $1160, this one is priced at a more-than-reasonable, in fact CHEAP...
$500
sold
454 Casull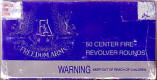 Freedom Arms. Made in their own factory in Wyoming until Winchester took over production, this is the earliest .454 box and the one in which this great ground-breaking (literally!) caliber was introduced in 1983. Headstamp is "F-A 454 CASULL" and the loading is their classic 260 gr Jacketed Flat Soft Point. The tape & tape marks (top corners) are from original "Factory sealed for your protection" printed tape which sealed the box. Has a couple edge creases but, in spite of the heavy contents, there are no separations at seams or flaps. A piece of history in a very scarce box.
$85



100 Years of Winchester Cartridge Boxes, 1856-1956
by
Ray T. Giles
&
Daniel L. Shuey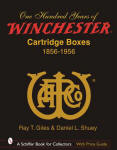 The 1st and ONLY definitive work on cartridge boxes, covering all the calibers for which Winchester cataloged their rifles, from the Volcanic to the Model 88. Thoroughly researched, this
312 page
book contains over 1,400 full color photographs as well as price and rarity guides in a high quality, hard-cover book with dust-jacket!
Will be happy to sign your copy on request.
RTG

$69.95, ppd