9 m/m Long
Shot Lesmok

Winchester. This is the seldom encountered Lesmok loading. Though found in this "Smokeless" red-labeled box, these very scarce GREEN Lesmok shells, to the author's knowledge, have been found in no other labeling: there are NO Lesmok labeled boxes. (see Giles & Shuey, pg 241). This rare box has 14 original cartridges (which, for years, I've seen priced in the $10-15 range). For the advanced collector of the several interesting varieties of this great little cartridge!
$150
sold
9 m/m Long
RF Shot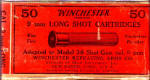 Winchester. Red, paper-tubed "mini" shot shells for the Win Mod 36.
Ca 1940s, bright & solid. NICE!
$215
sold
16 Ga




U.S.Cartridge Co. "AJAX HEAVIES", very scarce

and desirable in any gauge but RARE in 16 Ga! NO shell protrusions or other edge/seam problems. Full of correct, original shells, all of which appear native to the box. (This is the only shot shell box I deemed worthy of bringing back from the big Las Vegas Antique Arms Show!)
$1295
sold
12 Ga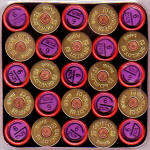 Gevelot Gallia. Unusual, colorful, 25-rd French "tin box" of red-tubed shells w/ "Gallia" logo and purple top wads. NEAT! (& cheap).
$50
12 Ga

Navy Arms. Black Powder shells, 10 rd box, 2-3/4", 1-1/8 oz #6 shot.
$25
12 Ga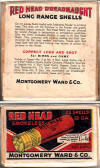 Montgomery Ward. The famous "Red Head" graphics, among the most attractive labelings in the field of shot shell box collecting. Not generally considered rare, but seldom seen in this pristine condition. And it's SEALED!
[Photo'd in shrink-wrap; pls ignore seam]
$295
sold
12 Ga

Peters. This is the much sought-after "Halloween" box of trap loads by Peters, one of the most popular of all shotshell graphics. Two-pc box, empty but solid w/ correct bottom. The creases seen in the pix are just that: creases, not tears.
Also, there are no seams splits as are often found in these two-piece shot shell boxes. This is as cheap as you're likely to find a "no excuses" Halloween box!
$400
sold
10 Ga
2-7/8"

Remington Express, 10 gauge 2-7/8", PLASTIC! 4-3/4 dr. 1-5/8oz #4 shot. Among the last made.

CALL! MAY HAVE OTHER 2-7/8" 10 GA BOXES!
$80
sold
10 Ga 2-7/8"
Blk Pwdr Blanks
for Win Cannon

Winchester. Black Powder blanks for the Winchester Cannon. [Have several, some different from this one, call!]
$60
sold